A NuWay to Deliver Healthy Vehicles
Inferior disinfectants can be messy, labor-intensive, ineffective, and damaging to car interiors. What's more, then can leave behind harsh fumes and harmful chemicals that can irritate drivers and passengers. Instead, choose a NuWay to kill germs inside car cabins.
NuVinAir's Total Health Protection system kills 99.9% of germs in just minutes to make vehicle interiors safer and healthier. Our proprietary two-step automotive disinfection and deodorizing system is a revolutionary, EPA-approved, and eco-friendly way to kill germs and odors at their source to make driving a pleasant experience again. Our system is a two step process using ReKlenz-X and ReFresh to provide a germ and odor-free vehicle for all your customers.
ReKlenz-X kills germs on high touch surfaces and is safe for all vehicle interior surfaces. Using oxygen-enriched microbubbles, it cleans and kills germs, bacteria, and viruses, including the virus that causes COVID-19. Reduce cross contamination with our hospital grade, high-performance cleaner and disinfectant made specifically for vehicle interiors.
The second step in our Total Health cleaning system is ReFresh, which helps revitalize your interior back to OEM conditions. Using our patented Cyclone technology, ReFresh creates a dry vapor that penetrates the vehicle's HVAC system and other hard-to-reach places to eliminate pollutants and contaminants that can make people sick. This autonomous cleaning process does all this in 15 minutes while sitting in any vehicle's cup holder. All you have to do is place the Cyclone and ReFresh in the car and press the button. For a quick, efficient, and effective way to disinfect and deodorize vehicles, choose our Total Health for automotive disinfection.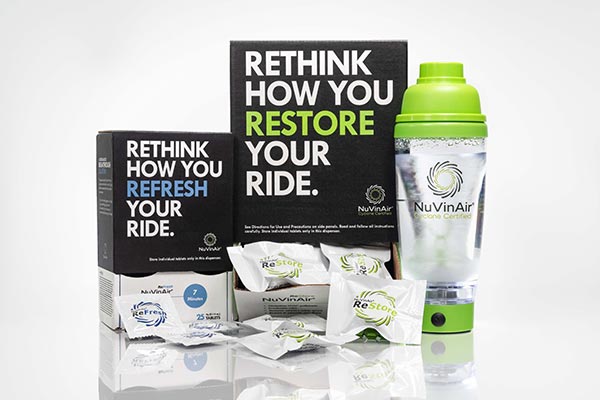 How Healthy is Your Car's Cabin?
Did you know that the average steering wheel is four times dirtier than a public toilet seat? The average American spends about 293 hours behind the wheel each year, meaning people are frequently exposed to harmful bacteria, viruses, and fungi living in their car cabins. These germs can lead to serious illnesses like respiratory infections, food poisoning, skin irritation, and many other health issues.
How do germs get inside the car? First, driving means touching many different parts of your vehicle, like the gear shift, steering wheel, and key fob. In addition, an estimated 20% of people eat in their car each week. However, even the cleanest, tidiest person in the world can easily track harmful germs into their cars from the gas pump, which is one of the filthiest surfaces you can touch.
In addition, pollutants, contaminants, and moisture can get stuck in vehicle HVAC systems which can lead to bad odors and unpleasant symptoms. Our Total Health Protection system is here to help reduce these risks and provide a safe, healthy ride for everyone on the road.
Our automotive disinfection and deodorization system is perfect for a wide range of industries, including:
Oil & Gas
School Districts
Government agencies
Automotive auctions
Deliver high quality car cabin disinfection services with our advanced, proprietary two-step sanitization process. Your customers deserve to have a germ and odor-free vehicle, and we are here to help you provide a healthier commute for all. Contact us today to learn how you can get started with our safe, non-toxic vehicle disinfection system!