Thanks to NuVinAir's innovative, advanced, and patented technology, our line of fast-acting, proprietary products, and Healthy Vehicle Programs have paved the way for us to standardize vehicle health.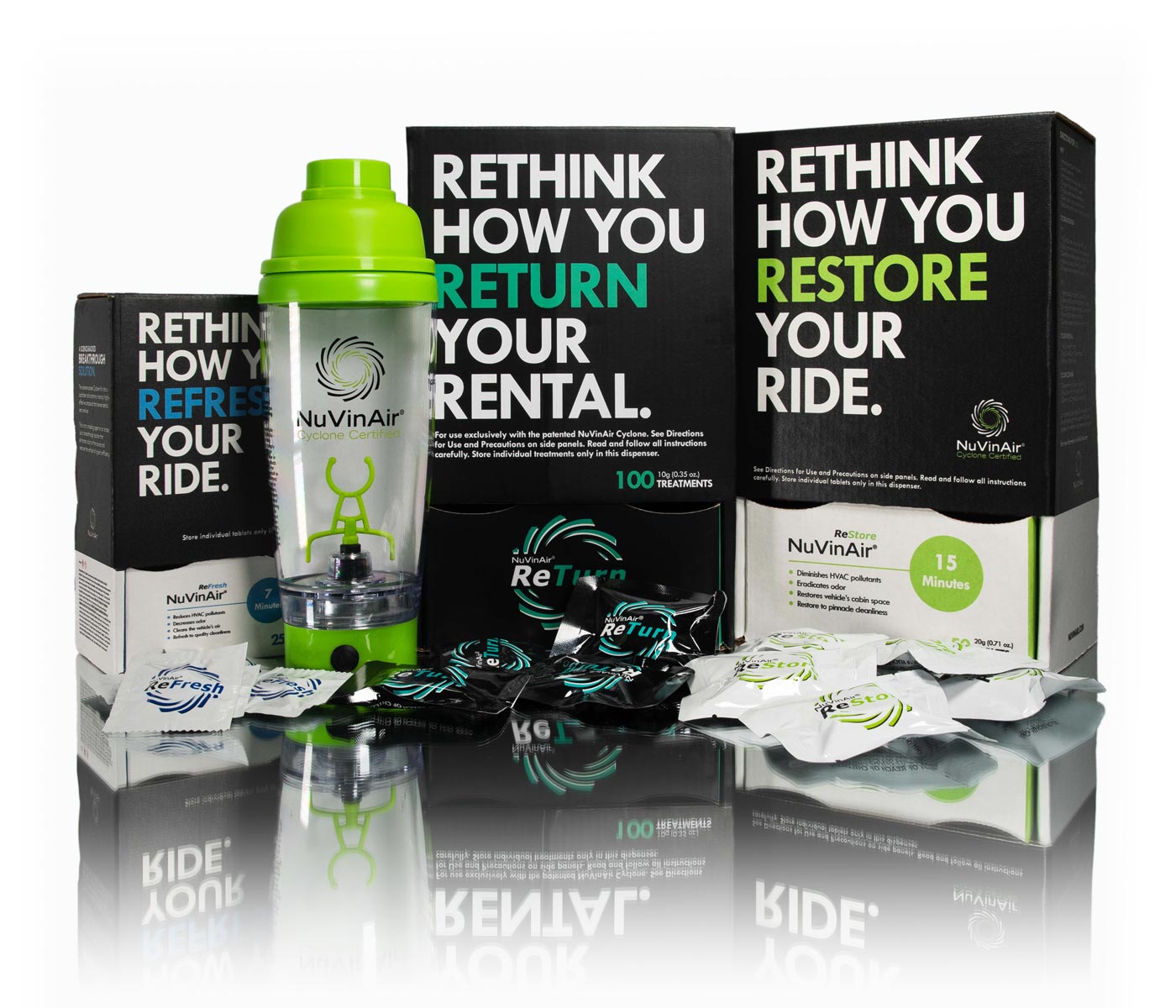 THE PINNACLE OF
AUTONOMOUS CLEANING™
TECHNOLOGY
Powered by Autonomous Cleaning™ Technology, the NuVinAir Cyclone helps our automotive partners achieve the pinnacle of cleaning performance. We provide them with the safest, fastest, and most effective way to provide their customers with healthy, clean vehicle interiors.
Use with NuVinAir ReFresh for the fastest way to freshen a vehicle's interior. Use with NuVinAir ReTurn to remove mild to mid-range odors and return vehicles to rental-ready in minutes. Use with NuVinAir ReStore to eliminate extreme odor and reset the vehicle to a like-new condition.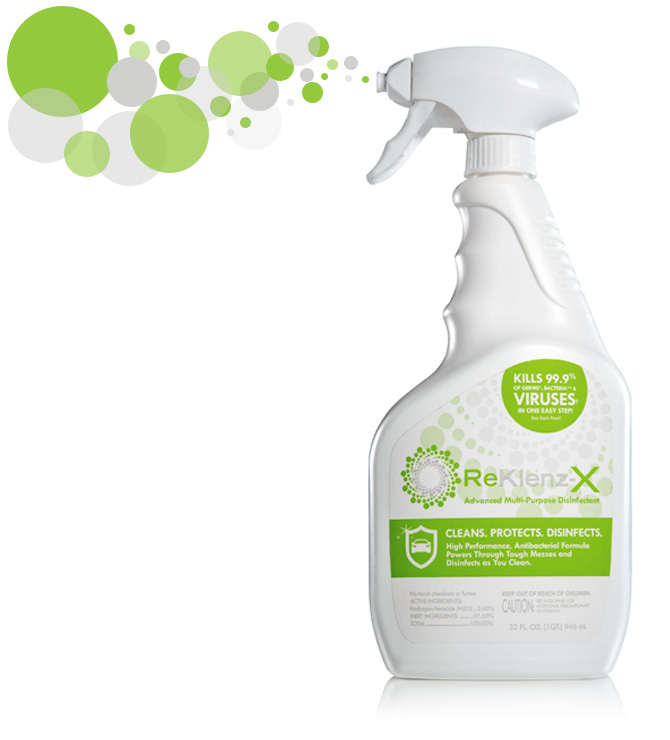 THE PINNACLE OF

Disinfectant


CLEANING
ReKlenz-X is a high-performance stain remover and EPA-approved, eco-friendly disinfectant that kills 99.9% of germs, bacteria, and viruses on vehicle surfaces. ReKlenz-X also kills emerging viral pathogens, including SARS CoV-2, the virus that causes COVID-19.
Without compromising the vehicle's high traffic surfaces or the safety of those applying it, this non-toxic, oxygen-enriched formula is proven to reduce the cross-contamination of germs on surfaces without leaving behind a film. ReKlenz-X activates straight from the bottle and allows our automotive partners to achieve the pinnacle of disinfectant cleaning.
Suggested Use:
Use as a high-performance stain remover & disinfectant to kill 99.9% of germs, bacteria, and viruses on all hard, high traffic vehicle surfaces.
Available In:
32-Ounce Spray Bottle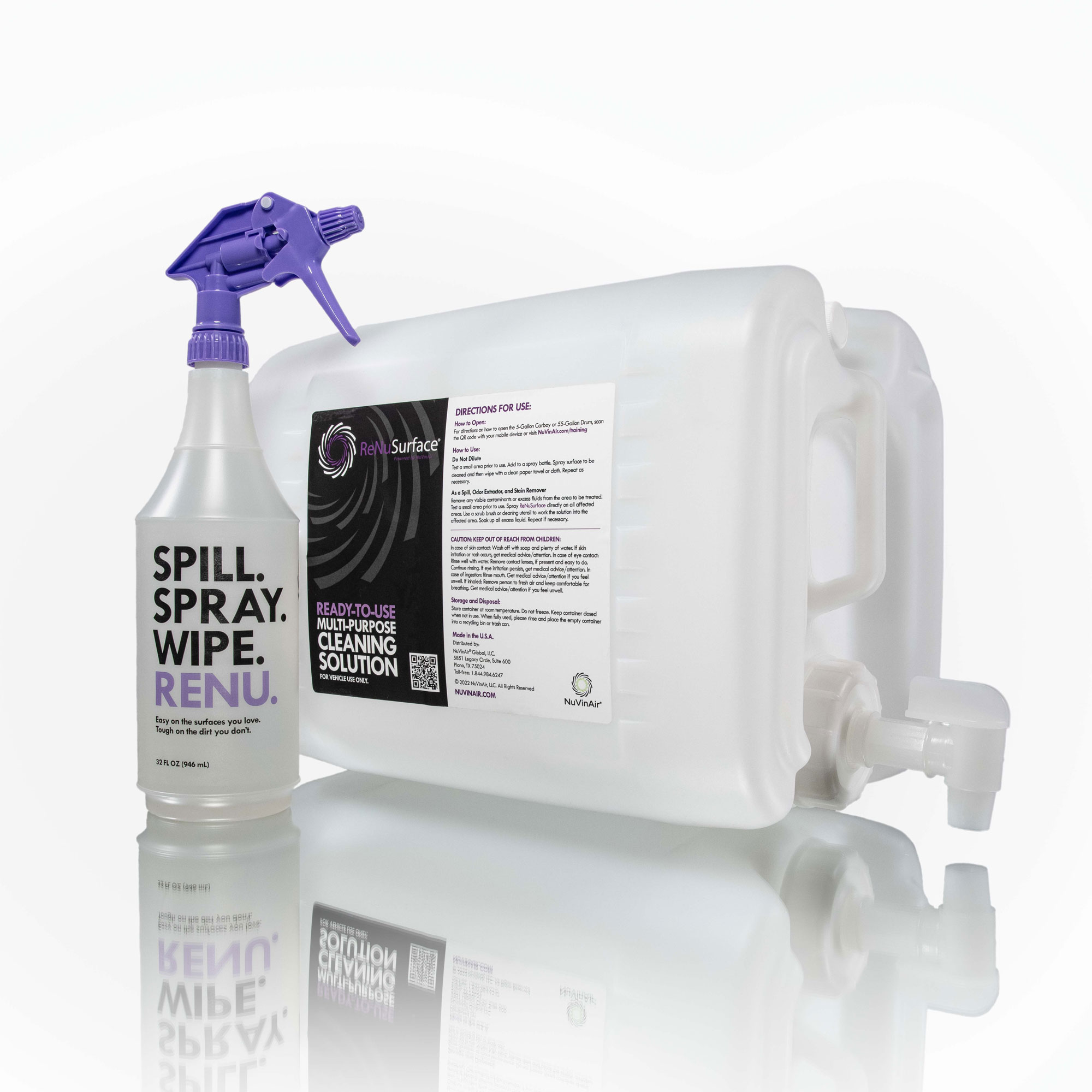 THE PINNACLE OF
MULTI-SURFACE
CLEANING
ReNuSurface streamlines operational efficiency with one liquid solution that eliminates the need for multiple cleaners. This safe and eco-friendly solution can be used with various cleaning systems or detailing tools to clean surfaces and extract odor caused by nicotine, smoke, food, pet, rot, waste, and more.
ReNuSurface safely cleans all materials such as vinyl, leather, plastic, steel, rubber, carpet, and even glass for a streak-free shine. ReNuSurface increases efficiency, speed, and effectiveness to achieve the pinnacle of multi-surface cleaning.
Suggested Use:
Use ReNuSurface with your preferred cleaning system and detailing tools to reach the pinnacle of multi-surface cleaning.
Available In:

32-Ounce Spray Bottles, 5-Gallon Carboys and 55-Gallon Drums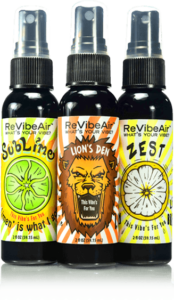 THE PINNACLE OF
FRAGRANCE-ENHANCED
driving
ReVibeAir is a post-Cyclone treatment for those who enjoy fragrance or want to change their Vibe. Infused with high-grade essential oils in three alluring scents, our exclusive line of spritzers is a perfect way to boost the customer experience and achieve the pinnacle of fragrance-enhanced driving.
What's your vibe?®
Suggested Use:
Give your vehicles a quick spritz to provide your customers with a unique, vibe-changing experience. 
Available In:
3-Scent Variety Pack and 12-Pack Single Scent